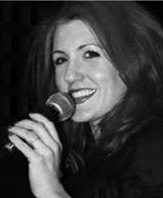 Sarah has been a vocal and confidence coach for many years. She works with adults and children from her private practise in Chelmsford and is the lead vocal coach at TheatreTrain in Leigh-on-sea. In addition, Sarah works as a personal assistant with autistic children in and outside of schools and herself has a child with ASD, ADHD and SPD.
Sarah loves all things voice and regularly keeps herself up to date with the latest techniques and developments. Most notably she has a certificate in advance Jazz and Blues from The City Academy, London. This helped her develop both as a Jazz vocalist and as a coach. in her own words "Jazz and it's origins connected me with music more emotionally than any other genre'.
Sarah started her journey in the world of musical theatre at the age of 8 where she attended Harlequins Theatre School In London. Here she was involved in many productions including performances at The London Palladium and Saddlers Wells. At the age of 17 Sarah joined vocal group 'Now and Then' as a Backing singer. She toured London and the South East, supporting acts such as Jimmy Joan's and Mick Reed. Sarah went on to perform as a solo artist, as well as lead singer, dep and session musician in a number of bands covering anything from funk to prog rock!
Sarah is available for private 1:1 coaching at her studio in Chelmsford. You can book your first session with her now, by selecting 'EVC first session' below, then clicking next and completing the booking.
If you are unable to find a day/time that works or you'd like to have a chat before you book, please email us on hello@essexvocalcoaching.com